Chickpea Microgreens Seeds
Dispatched within:
2 days
product unavailable

add to wish list
* - field mandatory





0
Product code:
70_chickpea-250g
Description
Chickpeas microgreens seeds - short information, usage and growing tips 
Chickpeas, with its botanical name Cicer arietinum L. and also known as garbanzo beans, are a popular legume with a nutty flavor and creamy texture. They have been cultivated for thousands of years in the Middle East and are now enjoyed all over the world. But Chickpeas don't just make delicious hummus - they can be turned into something even more nutritious and flavorful: Chickpea microgreens! Here in shortcut, you can get familiar with Chickpea microgreens:
what they are,
their health benefits,
how to grow them,
and some ideas for using them in your cooking. 
So get ready to learn about one of nature's superfoods that you can easily grow at home!
Chickpea microgreens are a nutritional powerhouse packed with essential vitamins and minerals. They are easy to grow, require little space and can be harvested in just a few weeks after planting. Chickpea microgreens have a mild, nutty flavor that is similar to chickpeas.
How to grow Chickpeas microgreens?
For the perfect Chickpea micro greens, make sure you soak your seeds for 8-24 hours before beginning. Then give them 6 days of blissful darkness to sprout in and 15-17 days growing time! If you want to experiment with texture, decrease the amount of light they get - less is more when it comes to crunchiness! Finally, don't forget that watering from below maintains moisture levels appropriate. Get ready for some delicious nutrition with just one bite - Bon Appétit!
Why and how to eat Chickpeas microgreens?
Chickpea microgreens are an amazing source of nutrition and can be incorporated into any diet. They have high levels of Iron, Calcium, Protein, fiber and other essential vitamins and minerals. Chickpea microgreens have a mild, nutty flavor that enhances the taste of salads and smoothies.They are low in calories and can be used as a healthy snack or side dish. They are also a great addition to soups and stir-fries for added flavor and nutrition. Chickpea microgreens can even be sprouted at home, making them an excellent source of fresh greens all year round. They are easy to grow and require minimal maintenance, so you can enjoy the amazing benefits of Chickpea microgreens without having to break the bank. With their high nutrient content and delicious flavor, it's no wonder that Chickpea microgreens are a popular choice for health-conscious individuals.
Try them today and start reaping the benefits!
| | |
| --- | --- |
| Variety: | Chickpea |
| Seed Category: | Microgreens Seeds |
| Latin Name: | Cicer arietinum L. |
| Dificulty Level: | Medium |
| Seed count per gram: | 4 seeds |
| Sow density 10x20 tray: | 300 grams |
| Sprout in low temp.: | Yes |
| Soaking: | Yes 8-24 Hours |
| Watering: | Moderate |
| Blackout Time: | 3 days |
| Total growing time: | 9 days |
| Taste: | Nutty Flavor |
| Stem Color: | Green |
| Leaves Color: | Green |
| Nutrition benefits: | Ca, Fe, K, P |
Shipping costs The price does not include any possible payment costs
Choose your shipping country:
Product reviews (0)
All reviews (positive and negative) are displayed. We don't verify that they come from customers who have purchased the product.

Other clients also ordered
Spinach, Lorelay
€4.75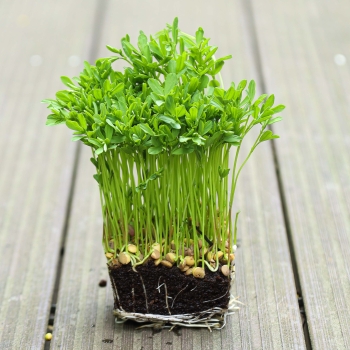 Lentils, Red Microgreens Seeds
€2.60 €2.34
Sorrel, Red Veined
€9.45
Perilla Red Shiso
€14.30

Promo