Mung Bean Microgreens Seeds
Dispatched within:
2 days
The lowest price during 30 days prior to the promotion:
€2.50
If the product is sold for less than 30 days, the lowest price since the product went on sale is displayed.
product unavailable

add to wish list
* - field mandatory





0
Product code:
66_mung-250g
Description
Mung Beans seeds for microgreens and sprouts
Mung Beans are one of the most important legume vegetables in China and are widely used there. Sprouts of this bean are very tasty and firm.
Cultivation tips for sprouts:
If you're looking to cultivate sprouts from mung beans, the process is simple and straightforward - soak your seeds for 12 hours then place them in a sprouter for up to 2-4 days. They should be eaten straight forward. To ensure optimal flavour and nutrition, don't leave them exposed to too much light or heat! Enjoy harvesting and eating fresh delectable sprouts at home or glasshouse anytime.
Cultivation tips for microgreens:
Interested in cultivating mung bean microgreens? Here are a few tips to get you started! Soak the seeds for 12 hours, then give them 3-4 days to germinate. The light growing phase will take another three days - but make sure not to use too much light exposure or your plants may become fibrous. For thicker stems, some growers like using ethelyne during certain stages of growth as practiced in China.
Nutrition facts:
They are a rich source of protein and minerals: Potassium, Phosphorus, Calcium, Magnesium, Sodium, Zinc and vitamins: E, B2, B1, B6, B3.
| | |
| --- | --- |
| Variety: | Mung Bean |
| Seed Category: | Microgreens Seeds |
| Latin Name: | Vigna radiata  |
| Dificulty Level: | Medium |
| Seed count per gram: | 10 seeds |
| Sow density 10x20 tray: | 215 grams |
| Sprout in low temp.: | No |
| Soaking: | Yes up to 8 Hours |
| Watering: | Moderate |
| Blackout Time: | 3-4 days |
| Total growing time: | 8-9 days |
| Taste: | Neutral |
| Stem Color: | White to Pink |
| Leaves Color: | Green |
| Nutrition benefits: | E, B1, B2, B3, B6, Ca, Mg, P |
Shipping costs The price does not include any possible payment costs
Choose your shipping country:
Product reviews (0)
All reviews (positive and negative) are displayed. We don't verify that they come from customers who have purchased the product.

Other clients also ordered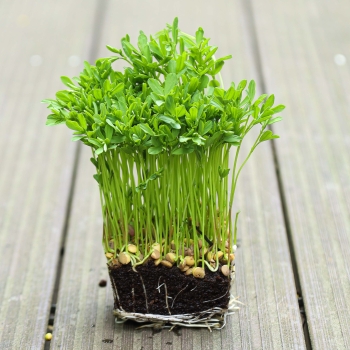 Lentils, Red Microgreens Seeds
€2.60 €2.34
CocoMat Double Layer
€2.55 €2.54
PopCorn
€4.00
Pea, Frilly
€4.00
Radish, Daikon
€3.00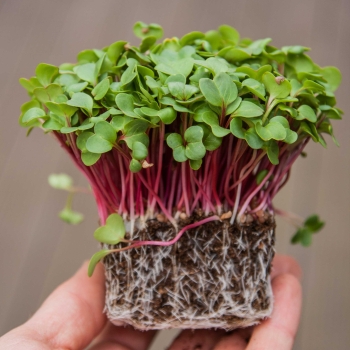 Radish, Pink
€3.00
Parsley
€3.00

Promo