Comparison of Pea Microgreens- Choosing the Ideal Variety for Your Urban Farm
🌱🌿 Welcome to the wonderful world of pea microgreens! 🌿🌱World where after two weeks of growing you get green, crunchy vitamin bomb…
Here at our shop, we're absolutely crazy (in the best way possible!) about all the varieties of pea microgreens. All varieties and all things around pea: pea shoots, pea tendrils, pea seeds, roots, leaves and steams.
That is why we do not have only one variety, we want them all! But all the good ones.
In this article, we're going to:
dive deep into the pea microgreens world, 
talk about pea characteristics, 
why it is worth cultivating it, 
and explore all the fantastic varieties you can find in our online shop. 
We'll take a closer look at their differences, compare their unique characteristics, and provide you with the specifications you need to make an informed decision.
Are you ready to become a pea microgreens connoisseur? 🧐🌱 Then let's meet the stars of the show: 
After this article you will know which pea microgreens variety is suitable for your needs and why it is worth growing it. Let's go!
---
What is the taste of pea microgreens?
These little green powerhouses are packed with delicate, sweet, green flavor and offer a delightful crunch that will leave your taste buds begging for more.
😋Crunch and texture depends from the variety, because some of them has only stems and leaves and some has additional tendrils, which makes them even more interesting. 
Pea microgreens perfectly fit as a base for salads, sandwich topping, garnish to any dish, or smoothie ingredient. 
So fear not, pea microgreens shoots taste so pleasantly neutral that even the pickiest eaters will find them irresistible! 
Why to choose pea microgreens to your urban farm portfolio?
Not only are pea microgreens delicious, but they also make for an eye-catching garnish that will elevate any dish to a whole new level of awesomeness. 
And here're the best parts: 
They're not as delicate as other microgreens, like amaranth, which means pea shoots are perfect for both restaurant chefs looking to impress and regular folks like you and me who want to add a touch of elegance to our home-cooked meals. 🍽️💚
They have quite univertal taste, so people likes it. 
Pea microgreens with the prices around 3-8 euro per kg are effective but relatively cheaper than some other microgreens like Nasturtium (35 e/kg), Coriander (30 e/kg) or Amaranth (60e/kg).
Prices per kg of course depends from order quantities. If you order in bulk always ask the supplier for better price! 
Pea microgreens offer numerous advantages in an urban farm portfolio, with their robustness, versatility, and high demand making them an ideal choice for urban farmers seeking sustainable, profitable, and delicious crops.
Characteristics and comparison of pea microgreens varieties
Now that we've introduced you to the vibrant world of pea shoots and tantalized your taste buds with a sneak peek at our delightful varieties, it's time to dive into a comparative adventure! In this paragraph, we'll take you on a journey through the different pea microgreen varieties in our shop, highlighting their unique characteristics, shapes, crops and seeds.
This comparison will help you find the perfect pea microgreen variety that suits your or your client's needs and satisfies your cravings. So, buckle up and get ready to explore the wonderful world of pea microgreens! 🌱🚀
Pea microgreens varieties guide - Table*
*If you want to download the table you will find it in the end of the article. 
If we want to be more accurate and descriptive we need to go one by one all over the varieties which we have in MP SEEDS, which is:
This variety brings a touch of elegance with its
small, brown, speckled seeds, 
and an army of

perfectly uniform clones

standing tall. 🌿👥 

Its normal growth ensures a consistent and harmonious harvest, making it a formidable contender in the microgreen arena.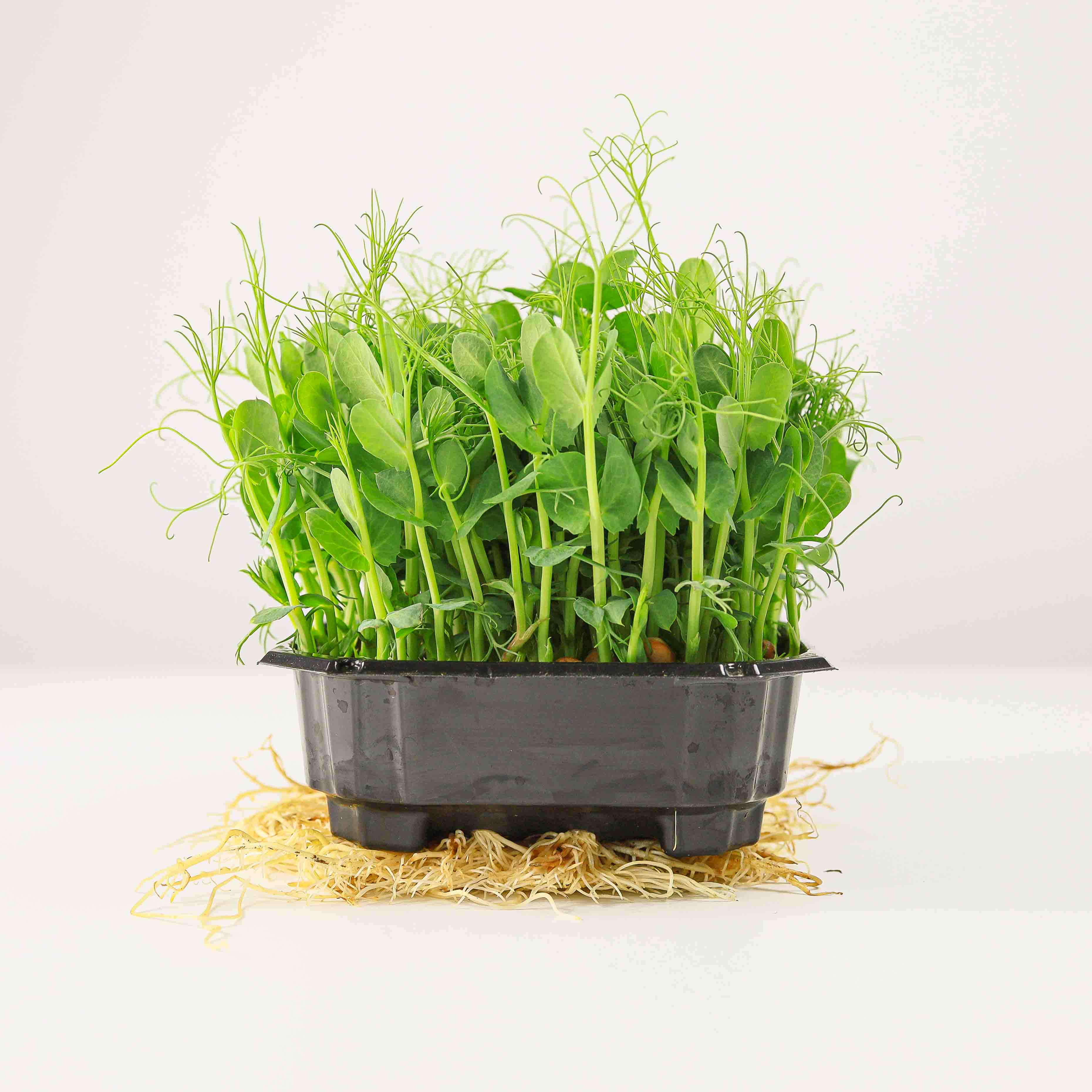 No tendrils

, but no problem, because many people love it that way! 

This leafy warrior boasts

medium, brown seeds

and elongated stems, standing proudly as a symbol of freshness and flavor.🥗🌿 
Its abundant foliage adds a dash of vibrancy to any dish, especially to the salads, like it's name says, proving that sometimes, leaves speak louder than tendrils.
Brace yourselves for the: 
"turbo fast growing" variety! 🚀💨 

With its

small, dark, speckled seeds

, Dunn sprints to the finish line, 

producing lush leaves

without any tendrils

in record time. 🌱⏱️ If you're looking for a speedy and bountiful harvest, this swift contender has got you covered.

Pea Dunn microgreens seeds can be called as well Snow Pea. 
Prepare to be wowed by this enchanting green gem. 🦊💚 
Cute

small, green seeds

 

and

flaunting bushy tendrils

, Foxy knows how to grab attention. 

Its tendrils dance with the wind, creating a visual spectacle that adds flair to any plate. A true showstopper!
It's time to get frilly with this charismatic variety! 😍🌿
Boasting

medium-sized brown seeds

 

and a tangle of

bushy tendrils

, Frilly adds texture and charm to your microgreen collection. 
Each bite is a delightful adventure as the tendrils tickle your palate. Bon appétit!
Don't let its name deceive you—Jumbo is here to impress! 🐘🌿 
With tendrils, 
yellow-white medium-sized seeds, 
and sky-high stems

, 
this variety towers above the rest. Its abundance of tendrils provides a tantalizing crunch, ensuring every bite is a satisfying experience.
Pea Microgreens growing tips:
Growing Pea is not the easiest job that you can imagine, but I am sure that you will handle it with success, especially with our pea tips. Once you know how to grow it you can experiment with lightening, soaking etc.
Remember, all pea seeds require a soak of 6-12 hours before germination. It makes seeds skin softer. 
Once they are seeded, they'll need around 6 days of blackout,

followed by approximately 2 weeks of growth before you can savor their deliciousness. 🌱💦

To achieve extra crispiness you need to grow them in lower temperature. 
So, choose your green warrior wisely, grab your gardening gloves and prepare your taste buds for a flavor explosion! Let's dive into the world of pea microgreens and discover the perfect variety that will have you saying, "Peas, please!" 🌱😄