Identifying Edible Flowers & Interesting Facts about them (with pictures)
Edible flowers are a fantastic way to add more flavor, texture and color to your life and dishes. They are often used as a creative and innovative ingredient in the world of cuisine, providing an interesting twist on everyday dishes.
In this article there are some edible flowers you can look out for and some interesting facts about them:
learn what are edible flowers, 
find out how edible flowers looks and taste,
get some tips how to grow them,
discover the selection of edible flowers, 
understand how edible flowers can be used in cooking, 
and their nutrition benefits. 
What are edible flowers?
Edible flowers are a delightful part of a plant's life cycle. Sproutling plants progress through their development stages - sprouts, then microgreens and baby leaves then after the true leave stage appearance, we can expect edible flowers to show up. 
How edible flowers look and taste?
Not only do edible flowers add flavor and texture but they do so with beautiful pigments that vary between shades of blues, purples, reds, yellows and oranges depending on the variety being used – making them perfect for adding visual appeal too! The presence of intense colors in your dishes will not only make it look beautiful but will potentially draw more attention towards it than other dishes around it on the table too! Their taste depends from the variety they came from. Usually they taste similar to their microgreens phased greens, for example flowers of Nasturtium are spicy- sour. 
Tips how to grow edible flowers?
When producing edible flowers it's good to prune fresh flowers from the beginning of the flowering stage. It will stimulate the plant to produce more flowers than expected. When you don't know what to do with your massive production of  fresh flowers it's good to cut all flowers and keep them in the fridge or dry them to use later in winter. It will also give your plants an order to produce more fresh flowers for your next week's needs. 
Edible Flowers selection with pictures:
Since people recognized the edibility of flowers, they have been used for centuries in food, medicine, and decoration. There are many of them but let's start from something easily recognizable:
These edible leaves are one of the most popular greens available today which has edible flowers. Beautiful violet balls have a mild garlic flavor and can be added to salads or used as garnish for dishes.
Please find below other types of edible flowers selected by us:
Tastes like raw, green cabbage and its tiny, violet flowers taste the same. When you give it lots of TLC (Total loving care) during cultivation it will produce literally hundreds of little flowers. All parts of that plant are edible. Leaves have small needles: that give specific texture for Borage. Borage is commonly used for honey production and its seeds are used for production of Borage Oil, which is very popular in cosmetics.
Is an edible plant with a unique blend of beauty and flavor. Tagete's soft orange flowers make for an eye-catching addition to any garden, while its serrated leaves add texture and subtle citrus notes when eaten!
Called from latin language Calendula officinalis. With its yellow petals, it's a pure edible wildflower commonly used.
Nasturtium's varieties literally grow like crazy- very fast, easy and gives an abundant harvest. With a bright splash of colors of the flowers from yellow-orange to fiery reds this edible flower is perfect to be used as a spectacular decoration to any drink, by freezing it in the ice cubes.
All Nasturtiums love slightly lower temperatures and higher humidity. They produce lots of edible leaves and lots of edible flowers. You can prune them all, leaving only two small leaves and after 2 weeks they will look like new.
Type called Tom Thumb has features mixed colors with light green foliage while its sister in variety Tom Thumb Alaska has light green to white marbled mix of leaves and salmon-colored to gold flowers. The popular variety of Nasturtium - Empress of India has foliage colors ranging from deep blue to near purple and scarlet flowers.
Provides a unique hue on its leaves with touches of purple giving it a royal look with bright mahogany red flowers. 
Violas are an incredibly popular plant for chefs across the world, who value its delicate flavor. Growing violas requires attention, because they don't tolerate high temperatures well, so extra caution should be taken when caring for them. Easy to grow over winter to have them ready for spring.
With flowers consisted of yellow base and white to yellow petals. If you want to know more about it, check the Shungiku product description.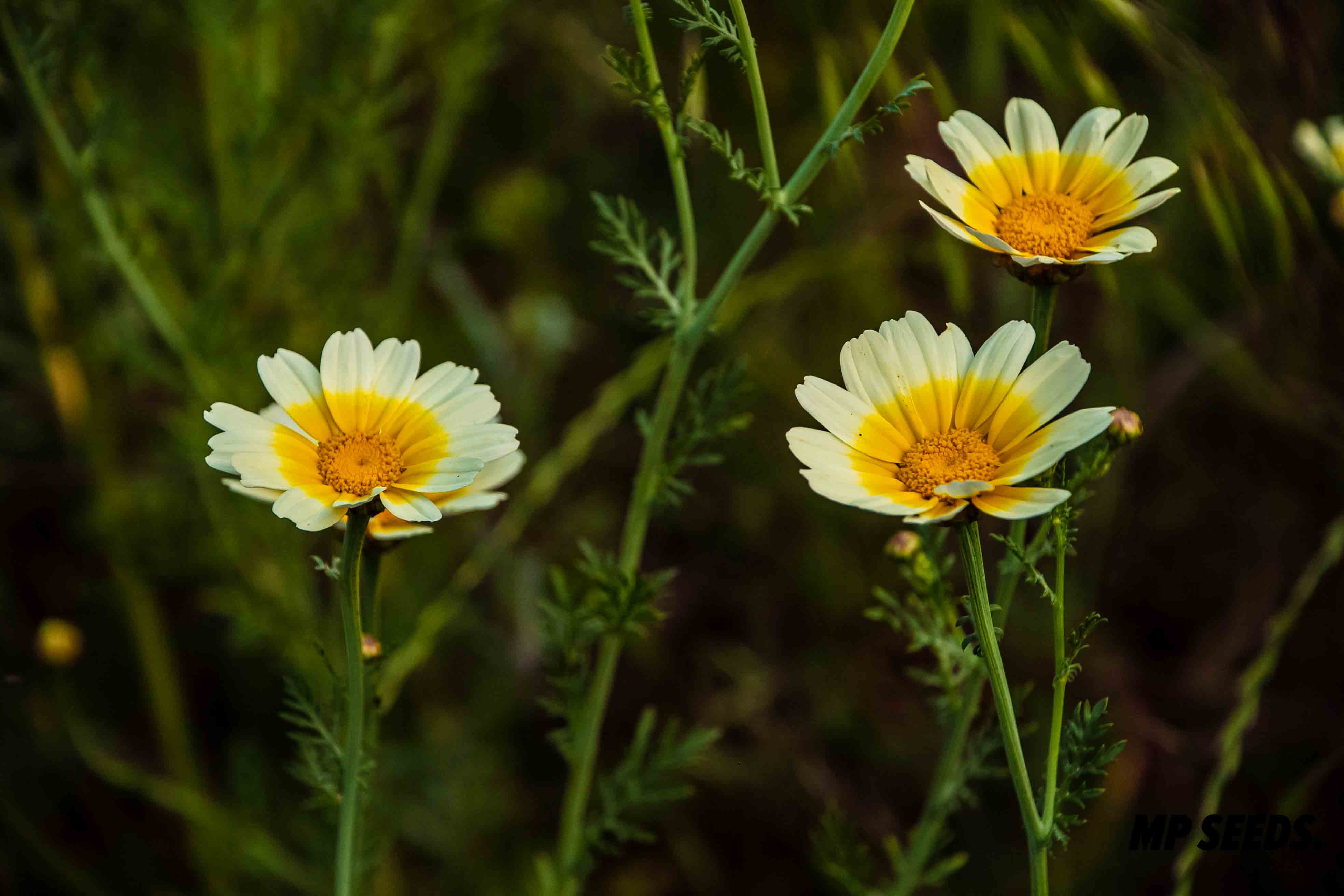 Are edible flowers healthy? 
Edible flowers are not only a beautiful addition to any dish, but they also provide an impressive range of health benefits for those who consume them.
They are full of vitamins like A, C, and other nutritional values which positively influence the human body like: riboflavins, niacin and minerals such as Ca (Calcium), Fe (iron), K (potassium) and P (phosphorus). Additionally, edible flowers are loaded with antioxidants which can help protect your cells from oxidative damage. Edible flowers are low in carbs and calories, which makes them a light addition to the diet.
How to use edible flowers?
Edible flowers can be eaten and used in numerous ways to enhance the taste and presentation of food. They can be added to salads, used in garnishes, integrated into drinks such as cocktails or party punches, baked into desserts like cakes and muffins, served as an accompaniment to main courses such as fish or chicken dishes, made into jellies or jams for preserves, dehydrated for long-term storage and even used as part of a decorative topping on ice cream! As you see edible flowers may be eaten in many ways!
PRO TIP (edible flowers frozen ice-cubes): Pour with water and freeze the edible flower in an ice cube and add it to the favorite drink to make it even more special! Can edible flowers be frozen? - You will ask. Above described option is the only possible one. Do not try to freeze them by itself because they have delicate parts and after defreezing they will fall apart.
Edible flowers are a great way to add flavor, aroma, color and texture to any dish. They can be used as an alternative to traditional vegetables or herbs in salads or main dishes. Whether you're looking for something creative to impress your dinner guests with or just want some extra nutrition in your meals, edible flowers are the perfect ingredient! With so many varieties available and such a wide range of flavors and colors, there's sure to be something that appeals to everyone. Try adding edible flowers into your cooking today – it might just become one of your favorite ingredients!
Colorful growing, 
Caroline