Discover the Best Coconut Mats and Coconut Coir for Growing Microgreens
Welcome to our comprehensive section with coconut mats and coconut coir, the ultimate substrates for successful microgreens cultivation. MP SEEDS shop provides access to top-quality coconut mats and coconut coir, ensuring a safe and efficient growing medium for your plants. In any shape, size and quantity you need. 
We evaluate coconut mats and cococoir as the best substrate for microgreens. Its exceptional water retention properties, ease of use, and ecological nature make it a go-to choice for both hydroponic and traditional growing methods. 
Our coconut mats and coconut coir substrate are made from thoroughly cleaned material, guaranteeing that they are free from any dirt and diseases which bring safety for your microgreens.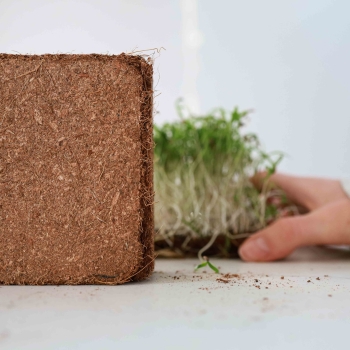 Coco Coir Growing Medium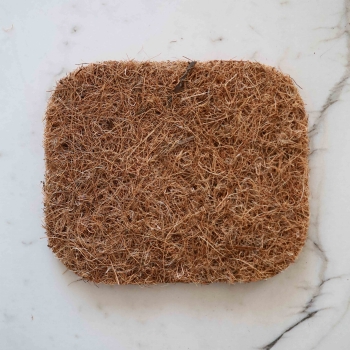 CocoMat - Fiber for Growing Microgreens
CocoMat Double Layer
Price:
€2.54
Regular price: €2.55
Lowest price: €2.16
Advantages of Coco Mats for Growing Microgreens
Coconut coir exhibits outstanding moisture retention capabilities, ensuring a constant water supply for your microgreens. This feature reduces the risk of underwatering and helps maintain optimal hydration levels for robust plant growth.
Using coconut fiber for microgreens  prevents overwatering, due to water absorbing features which help naturally to avoid mold. Additionally because it is made from cleaned material, it doesn't contain or transfer any bacteria or other diseases.  This aspect provides a cleaner and healthier growing environment for your microgreens.
Whether you're a beginner or an experienced grower, coconut mats are incredibly user-friendly, the same with the cococoir. 
Cocomats come in cut-in sized mats making it easy to handle and incorporate into your growing trays or in the bigger strip which is better for the hydroponics systems. They are ready to use in a minute. You just need to add a bit of water and rub it intensively and sow the seeds. 
With Coco Coir is basically the same but without rubbing. Here, after putting the coconut brick into the water you need to wait some time to have a ready substrate.  
Both: Coconut coir and Coconut Fiber for growing micro green are made from the fibers of coconut husks, making it a sustainable and environmentally friendly choice. By utilizing this renewable resource, you contribute to reducing waste and promoting a greener approach to gardening.
Exploring Coconut Mats:
For a comprehensive understanding of coconut mats, we invite you to read our detailed article:
that provides step-by-step instructions on how to use them effectively. From preparing the mats for planting to optimizing moisture levels and ensuring proper drainage, our guide covers all the essential aspects of utilizing coconut mats in your microgreens cultivation. Furthermore, you'll gain insights into the various industries that rely on coconut mats for their growing needs, showcasing the versatility and effectiveness of this substrate. 
Comparing Coconut Coir and Coconut Mats: Making an Informed Choice
If you're torn between choosing coconut coir or coconut mats for your microgreens, our informative comparison article can assist you in making an informed decision. Read the:
The Pros and Cons of Coco Coir vs CocoMats for Cultivating Microgreens
where we delve into the characteristics, advantages, and potential limitations of both options, allowing you to evaluate which substrate aligns best with your specific requirements. Explore the nuanced differences between coconut coir and coconut mats to ensure that you select the ideal medium for your microgreens cultivation.
By reading these articles, you'll gain valuable knowledge that can enhance your microgreens growing experience and enable you to make educated choices when it comes to incorporating coconut mats and coconut coir into your cultivation practices.
Don't Miss Out, Try Best Coconut Coir for Microgreens and our cut i size Coconut Mats Today and Grow with Us!