Overview of Red Microgreens: Review of Top 5 Types, with Tips for Growing Healthy and Tasty
Are you looking for a way to add more nutrition and color to your diet?
Red microgreens are a great option. They are packed with vitamins, minerals, antioxidants, and other beneficial compounds that make them an excellent addition to any meal. Not only do they provide nutritional benefits, but the vibrant red hue adds visual appeal as well. In this article we will discuss what red microgreens are, how to grow them successfully, and their potential health benefits and uses. Read on for more information about these tiny powerhouses of nutrition!
Article content includes:
Overview of Red Microgreens 
What are microgreens?

Which microgreens are red?
Tips for Growing Healthy, Tasty Red Micro Greens (general info)
Top 5 Types of Red Microgreens with growing instructions and photos
Radish Red Rambo microgreens

Amaranth microgreens

Kohlrabi microgreens

Sorrel microgreens

Beetroot microgreens
Benefits and Uses of Red Micro Greens
---
 1. Overview of Red Microgreens
What are microgreens?
Microgreens have grown in popularity in recent years as a delicious and nutritious addition to salads and other dishes. They are tiny, edible shoots of various vegetables, herbs, and legumes that are harvested within the first 2 weeks (depending on type) of their growth cycle, later than sprouts and earlier than baby leaves. They consist of steam, cotyledons, and true leaves. 
Which microgreens are red?
As a result of the natural way of crossbreeding and plants selection, there were and still are created other variations of microgreens colors than only the green ones. Pink, red, purple, yellow, or blue - nowadays all of these colors and their shades you may meet in microgreens greenhouses all over the world. The most famous varieties of red microgreens are: 
Red microgreens are especially popular and desired mainly because of their unusual look but also because of their impressive nutritional profile and earthy-spicy to nutty flavor that adds an extra layer of flavor to recipes. On the other hand they're incredibly versatile and can be used on almost any dish. Plus, some of them are so easy to grow, even for beginners! So if you want to have some pink accent on your plate, or please your demanding clients give the red microgreens a try!
▶︎ See the all red microgreens seeds avaliable now in MP SEEDS. 
2. Tips for Growing Healthy, Tasty Red Micro Greens (general info)
Growing delicious and healthy red micro greens requires just the right balance of temperature, moisture and light. When it comes to temperature, the lower it is, the spicier the taste. For the opposite, opt for bigger leaves as they will be less spicy. Be sure to keep your greens well watered but not oversaturated so that the soil remains moist without becoming soggy. Plenty of natural or artificial light is essential too.
With patience and care, even beginners can grow tasty red micro greens at home! We recommend you not only to read the description about each product on their product page, but to experiment by yourself as well, because the environmental and cultivation conditions like light, air, soil or water are a little bit different in each country.
3. Top 5 Types of Red Microgreens with growing instructions
Radish microgreens are one of the many types of red microgreens you can grow at home. They have a unique, slightly spicy flavor and provide an intense red color to salads and other dishes. 
Radishes seeds do not need soaking before, 3-day germination period, and needs around one week to grow. 
Red Rambo variety is the reddest radish among others. Has purple-red both steam and leaves. Her sister varieties Radish Pink has deeply pink steam and green leaves, and Radish Rose has slightly pink stem. It is always difficult to decide which one is the spiciest one, because it depends on the cultivation temperature and time. One thing is for sure: the earlier you harvest the Red Rambo variety of radish the redder leaves you get. Take a look at the photos below to see the visual difference between them. 
Radish Red Rambo microgreens photo ⬇️
Radish Pink microgreens photo ⬇️
Radish Rose microgreens photo ⬇️
Another red microgreen in our selection is Amaranth. It grows for almost 2 weeks, after 3-4 days of germination, but it is easy green and worth waiting.
The most important thing you need to remember about Amaranth cultivation is that it doesn't like too much water, and loves a lot of light. The more lightening the redder it will be. If you prefer to have it in a lighter, nice pink color (first picture) you need to harvest it earlier, because the longer it grows the darker it becomes.
Amaranth young microgreens photo ⬇️
Amaranth grown microgreens photo ⬇️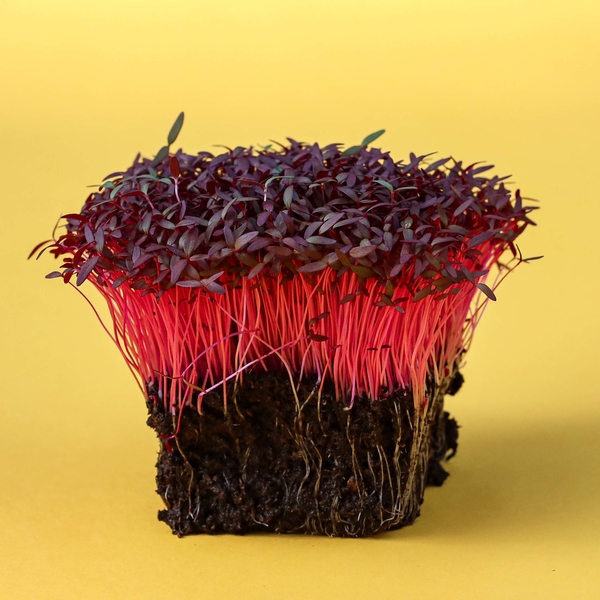 Red Kohlrabi are a type of red microgreen that has a mild Kohlrabi-like flavor. These tiny greens are extremely fast and easy to grow. You need a total of  7 days for the cultivation process: 3 days of blackout and 4 days for growing and that's it!  
Kohlrabi microgreens photo ⬇️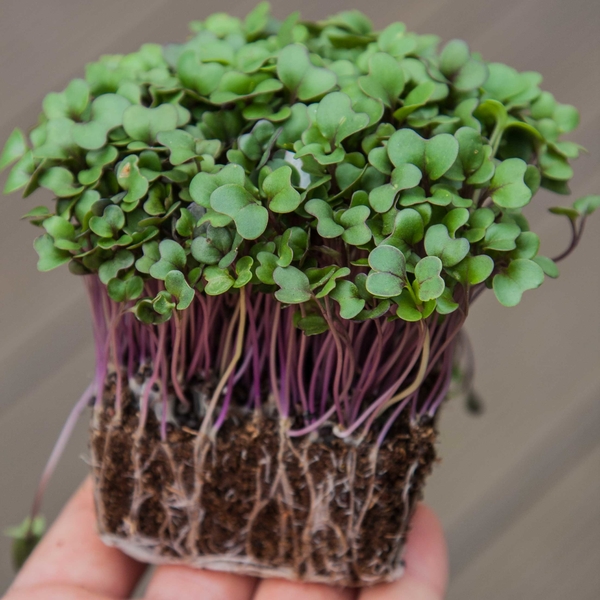 Sorrel microgreens are a fascinating challenge for the enterprising gardener, offering decorative and delicious rewards. With their beautiful red veined leaves, these unique greens have an unmistakably sour and lemony taste that will elevate any summer salad or soup. Although not recommended for beginners, with the right care and patience even those new to gardening can find success in cultivating Sorrel microgreens. For detailed cultivation direction check description of the Sorrel microgreens seeds. 
Sorrel red veined microgreens photo ⬇️ 
Beet microgreens are a unique and earthy addition to any kitchen. With their distinctive color and taste, they will add a bold new flavor to any savory dish. Perfect for the slow food kitchen experience, these nutrient-packed greens can be ready in a little more than two weeks with the right care. To achieve success it is important not to soak your seeds before planting and to provide plenty of light after 3-4 days of blackout phase. While growing, take care not to overwater beet as this could negatively impact growth time - with 12 days being optimal harvest time.
Red Beet microgreens leaves photo ⬇️
4. Benefits and Uses of Red Micro Greens
Usage
Red micro greens are incredibly versatile and can be added to a variety of dishes for a delicious and nutritious boost. Radish microgreens pair well with salads, soups, smoothies and sandwiches. Sorrel microgreens add a tart flavor to stir-fries, sauces and salsa. Kohlrabi microgreens can be used as an interesting topping on pizzas or in grain bowls. Amaranth microgreens bring nutty depth to salads, grain bowls or tacos. The possibilities of incorporating these nutrient-dense red micro greens into meals are endless!
Health benefits
Are Red micro greens healthy? Of course! They add a nutritious and colorful boost to a variety of dishes. All of them contain many healthy vitamins, minerals and antioxidants which can help to protect against disease, encourage healthy digestion and provide energy. 
Why eat red microgreens?
Besides that all red microgreens are beautiful and healthy in principle, each of them has some characteristic benefits that it brings with every meal. 
For example Beet microgreens are jam-packed with vitamins and minerals, and they offer an impressive 333% of the recommended daily value for Vitamin K, 35% daily value for Vitamin A, 33% DV for Vitamin C, 21% DV for Copper as well as Magnesium, Manganese, Potassium Iron and Calcium.
On the other hand radish and amaranth microgreens are both incredibly nutritious additions to your diet. Radish microgreens are packed with Vitamin C, Vitamin K and antioxidants which can help promote a healthy immune system - as well as other health benefits such as lower blood pressure, improved digestion and better bone health. Amaranth microgreens offer an impressive source of plant-based iron and dietary fiber while also containing valuable amounts of protein, magnesium and essential fatty acids. Both radish and amaranth microgreens provide a powerful punch of nutrition to any meal!
Summary
Red microgreens are a great addition to any garden, whether you're growing them for their vibrant color or for the many health benefits they can provide. With some simple tips and techniques, anyone can successfully grow delicious red micro greens in just about any space. Not only will these tasty little plants bring an attractive splash of color to your meals but they also have numerous nutritional advantages that make them worth adding into your diet. Whether it's Radish Red Rambo, Amaranth, Kohlrabi, Sorrel or Beetroot - each type of red microgreen has its own unique taste and texture as well as plenty of vitamins and minerals to help keep you healthy!
Have a colorful garnish, 
Caroline
Any questions?
Contact me via email: karolina@mpseeds.eu