The Most Popular Microgreens Your Customers Will Love: Grow the Best Varieties
Are you a passionate urban farmer seeking to elevate your crop game? Microgreens are your secret ingredient to success!🌱👩‍🌾 In this comprehensive guide, we unveil the most beloved microgreens varieties that your customers can't resist. From flavours to cultivation tips, we've got you covered. Join us on this green journey to become an urban farming pro! In this article, you will learn: 
What's trending microgreens varieties and how to choose them?

Radish Microgreens: Exploring Top Varieties

Pea Microgreens: Urban Farming's Must-Have

Sunflower Microgreens: A Crispy Delight

Nasturtium Microgreens:Beautiful and Worth the Wait

Cilantro Microgreens: Freshness and Fragrance

Pak Choi Passion: Essential Varieties for Your Farm
Find out which varieties will improve your crop and attract crowds of customers.🍀
---
What's trending microgreens varieties and how to choose them
Whether you're a seasoned farmer or just starting your agricultural journey, you're probably on the hunt for the right microgreens. These little greens are gaining popularity because they're both nutritious and visually appealing. They're also budget-friendly and don't require much space.🌱
But how do you stand out in a crowded market and catch the attention of chefs, retailers, and customers? The secret is in choosing the best microgreens.🌟
At MP Seeds, we offer over 70 unique microgreens varieties that can take your farming to the next level. We've handpicked a few top contenders that will not only impress your customers but also elevate your culinary creations.
Nasturtiums🌼 are a must-have. Their vibrant, delicate flowers add beauty to your dishes. Peas are another excellent choice, known for their health benefits and visual appeal in your meals. Radishes bring both decoration and a tangy flavour that customers love.🍽️
Now, let's delve into how to choose the best microgreens varieties that will elevate your farming and satisfy your customers' demands.🌿
How to choose the best microgreens varieties?
Selecting the right microgreens is a crucial step in ensuring the success of your urban farm. To make the best choices, consider these fundamental factors that can make a significant impact on your farming endeavours:
Popularity: Focus on microgreens in high demand.
Visual Appeal: Opt for varieties with vibrant colours and an attractive appearance to enhance the diversity of your harvest.
Ease of Cultivation: Especially crucial for new urban farmers, choose user-friendly varieties for a smoother farming experience.
Taste: Select microgreens with universally liked or distinctive flavors to cater to various preferences.
Reliable Suppliers: Source your microgreens from reputable providers to guarantee quality and consistency.
These factors contribute to the success of an urban farm and customer satisfaction.
In the sections below, you will find out exactly which varieties are necessary to meet customer demands and diversify your urban farm.🌱👨‍🌾
Radish Microgreens: Exploring Top Varieties
When it comes to popular microgreens, radishes take the lead. In particular, the Radish Red Rambo and Radish Pink stand out with their vibrant colours.🌺🎨 Radish Rose and Radish Daikon also share these features, making them excellent choices for your microgreens farm. But there's much more to these varieties:
Quick Growth:

Ready to harvest in just about 9 days, these microgreens offer a swift turnaround for your farm.

Beginner-Friendly:

Minimal effort is required, making them suitable for both seasoned farmers and newcomers. 

Distinctive Flavor:

Radish microgreens bring a spicy and unique taste to a variety of dishes. 

Sprouting Seeds:

Their seeds are not only perfect for microgreens, but also for cultivating the trendy and sought-after sprouts.
For those looking to diversify their harvest and explore other radish varieties, don't miss our Radish Seeds category. It's the perfect opportunity to increase your crop diversity.🌈
Radish Red Rambo Microgreens⬇️
What are the benefits of growing radish microgreens?
Radish microgreens offer a multitude of benefits to food enthusiasts and chefs alike. These tiny greens infuse dishes with a burst of fresh flavors, a satisfying crunchy texture, and a delightful touch of spiciness. Beyond their culinary advantages, radish microgreens are nutrient powerhouses, rich in essential vitamins and vital nutrients.
For aspiring home growers, radish microgreens prove to be an excellent choice. Their ease of cultivation and quick growth make them the perfect option, especially for beginners. With minimal knowledge required, you can embark on your microgreen journey with confidence, knowing that success is within reach.
Furthermore, the demand for radish microgreens remains strong, and their popularity is steadily on the rise. As a result, growing these microleaves not only enriches your culinary creations but also ensures a promising venture in response to increasing demand.
In fact, it's important to note that radish microgreens are considered one of the most profitable microgreens to grow. Their cost-effectiveness and high market demand make them an attractive choice for urban farmers looking to boost their profits.💰👨‍🌾
Pea Microgreens: Urban Farming's Must-Have

🌟
Pea microgreens are an essential addition to your farm. Their robustness, versatility, and soaring demand position them as the go-to choice for urban farmers seeking sustainable, profitable, and delectable crops. What's more, they offer a cost-effective alternative compared to other microgreens, making them a lucrative option for your venture. Our Pea Shoot Seeds collection boasts a wide array of varieties, but based on our experience at MP SEEDS, we confidently recommend three exceptional microgreens pea varieties, each excelling in various aspects.
Pea Dunn: This variety stands out with its rapid growth, a notable absence of tendrils, and its long, lush stems and leaves. These characteristics make it an excellent choice for farmers looking for a hassle-free yet bountiful harvest.🚀💪
Pea Foxy: Featuring a vibrant green colour and delicate appearance, Pea Foxy adds an aesthetic charm to your garden. The curly tendrils contribute to its visual appeal while retaining the delightful sweet flavour of pea microgreens.🌿✨
Pea Taiga: Known for its lush, curly tendrils and the vibrant green hue, Pea Taiga combines aesthetics with taste. It's a versatile choice that suits a range of culinary applications.🌱
By including these exceptional pea microgreens varieties of your harvest, you'll not only elevate your urban farming venture but also cater to the surging demand for fresh, nutrient-rich, and delicious greens.
If you're intrigued by the subject of peas microgreens, explore our article to gain a deeper understanding of them.⬇️
► Comparison of Pea Microgreens- Choosing the Ideal Variety for Your Urban Farm
Pea Dunn Microgreens⬇️
Sunflower Microgreens: A Crispy Delight
Are you ready for a crunchy, delicious, and bountiful harvest? Look no further than Sunflower Microgreens, often referred to as our 'morning birds.'🌻🌅 The secret to their sweetness lies in harvesting them in the morning when they're at their peak flavour.  However, if you cut them at the end of the day, they may take on a slightly sour note.
Discover the potential of sunflower microgreens with these compelling advantages:
Cost-effective seeds at 6–9 euros per kg.

Rapid growth in just 8–9 days

Thrive with abundant sunlight and regular watering.

Suitable for both professional greenhouses and novice gardens.

Delightful crunchy flavour burst in your dishes.
This simplicity makes them a perfect fit for any greenhouse, whether you're a seasoned farmer or just starting out. If you already know that it will be the star of you urban farm portfolio check the article⬇️
► How to grow Sunflower Microgreens🌻?
Sunflower Microgreens⬇️
Nasturtium Microgreens:Beautiful and Worth the Wait
Allow us to introduce you to an essential addition for your cultivation - the irresistible Nasturtium Microgreens, consistently favoured by celebrity chefs, culinary experts, and restaurateurs.🌸👩‍🍳
These microgreens offer a delightful blend of peppery and subtly sweet flavours, making them an exceptionally versatile ingredient in a variety of culinary creations. Renowned chefs and eateries often incorporate the stunning and vibrant nasturtium edible flowers as garnishes or accents in their dishes.
What makes nasturtium microgreens an attractive addition to your urban farm?🌼💫
Here are some key features to consider:
Visual Appeal:

Nasturtium microgreens add elegance and beauty to your garden or farm, making them a visually striking choice.✨

Increasing demand:

We understand that there may be concerns about price and growing time. Nevertheless, based on our experience, demand for microgreens nasturtiums is growing and chefs outright love this variety.

Adaptability to Cooler Temperatures:

Nasturtium microgreens can thrive in cooler temperatures, allowing you to cultivate them at a slower pace while avoiding mold growth.🌡️❄️

Health Benefits:

Nasturtium leaves and microgreens are packed with essential nutrients, including vitamin C, antioxidants, and natural antibiotic properties, contributing to a nutritious diet

.
At MP Seeds, you'll find a collection of Nasturtium Microgreens varieties, allowing you to customize your cultivation to meet your customers' needs.
While it's true that growing them requires patience, and they might not be the most budget-friendly option, it becomes an economically viable choice when there is a high demand for edible flowers.
Nasturtium Empress of India Microgreens⬇️
Cilantro Microgreens: Freshness and Fragrance
Cilantro Split Microgreens, also known as Coriander, are a staple in the culinary world and a highly sought-after variety for both home cooks and professional chefs. Their versatility and popularity make them a valuable addition to your farm. These microgreens are in high demand and are widely used in a variety of dishes.🌿🍽️
What should you know about Cilantro Microgreens : 
Efficient Growth:

Germinate in just 5-6 days for quick sprouting and growth, typically reaching optimal size within 14 days.🌱📆

Minimal Effort:

Easy to grow, they thrive without the need for soaking, making them a hassle-free addition to your microgreens selection.

Consistent Demand

: Cilantro's popularity ensures a steady market, making it a reliable choice for your farm.

Distinct Citrusy Flavour

: Cilantro microgreens offer a unique citrusy taste that elevates the freshness and fragrance of your culinary creations.🍋🌿

Choose Cilantro microgreens for a variety that's not only popular but also practical, ensuring a successful harvest with minimal effort and a distinctive flavour that your customers will love.
Cilantro Coriander, Split Microgreens⬇️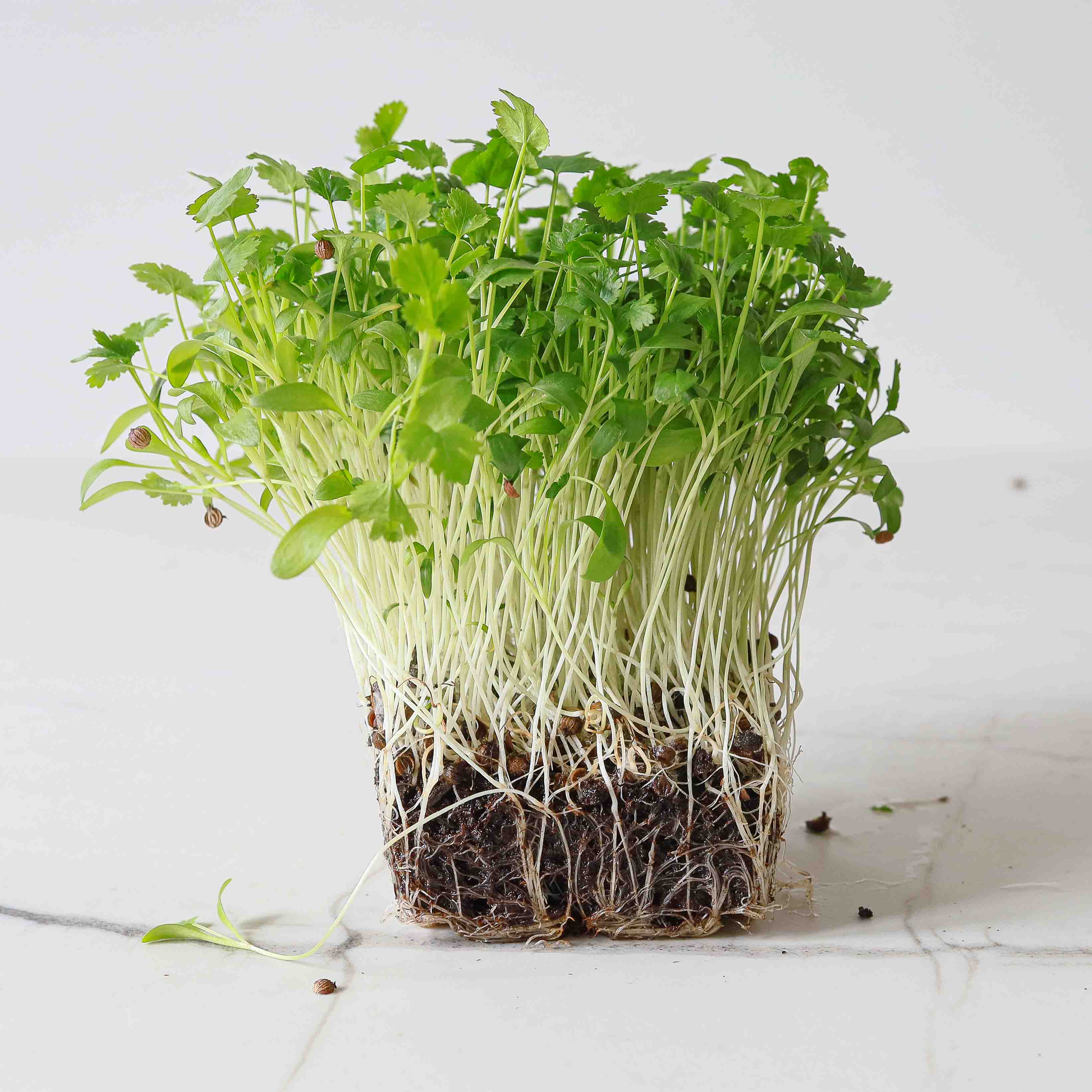 Pak Choi Passion: Essential Varieties for Your Farm🌿🏡
In the world of microgreens, Pak Choi shines as a versatile and flavourful green that every urban farmer should consider. This member of the cabbage family offers a mild sweetness that delights the taste buds, and growing Pak Choi microgreens is straightforward, making it an excellent choice for both aspiring horticulturalists and seasoned farmers.
Cultivating Pak Choi microgreens seeds is simple and hassle-free, with no need for pre-soaking or special preparations. Just ensure the plants receive 3–4 days of blackout, followed by 6–8 days for harvesting. Pak Choi microgreens leaves can be ready for harvesting in just 12–15 days after sowing. So, if you're looking to add diversity and detectability to your culinary creations, prioritize Pak Choi microgreens.🍽️🌱

At MP Seeds, we provide two varieties of this microgreens: Pak Choi White Steam and Pak Choi Red, which features slightly red leaves. This offers you the flexibility to choose your preferred variety.🌿🎨
Pak Choi Red Microgreens⬇️
Summary
In this comprehensive guide, we've unveiled a range of popular microgreens that will undoubtedly captivate your customers. From the swift growth of radishes to the diverse and delightful flavors of peas, the unique appeal of nasturtiums, and the consistent demand for Cilantro, your farm is poised for success. By incorporating these sought-after microgreens into your offerings, you'll not only meet customer demands but also elevate your farming venture.
Try to build your portfolio according to customer preferences, price ranges, farm capacity, and growing schedules, and you can be sure that these microgreens will not only be highly sought after but will also be a profitable business.